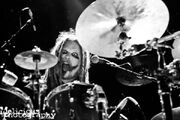 Industrial metal is a subgenre of
heavy metal
, using repeating metal guitar riffs, sampling, synthesizer or sequencer lines, and distorted vocals.[1] Founding industrial metal acts include Ministry, Godflesh, Helmet, and KMFDM.
Industrial metal's popularity led to some criticism from other artists associated with the industrial scene. Subsequently, it is most well known in various European permutations. Industrial metal groups have produced many acclaimed music videos.
Ad blocker interference detected!
Wikia is a free-to-use site that makes money from advertising. We have a modified experience for viewers using ad blockers

Wikia is not accessible if you've made further modifications. Remove the custom ad blocker rule(s) and the page will load as expected.